All the ways our new headquarters will help us better serve our artist community
As more and more people look to experience art as part of their daily life, the demand to bring art into public spaces outside of museum walls is growing. From city-wide placemaking initiatives to small professional services companies, clients are increasingly coming to NINE dot ARTS looking for ways to support the creative economy and artist community in order to enrich the experience of visitors and guests.
As we mark our ninth year of fostering connections between artists and communities, it was time to take a look at our operations to help ensure our growing team was positioned to do their best work and support more artists than ever before.
As a result of that effort, we decided to create a new headquarters, located at 3734 Osage St. in Denver's Lower Highlands neighborhood, that would better support our people and especially our artist community. Here are a few highlights of how it does just that:
A Democratized Entry Experience
One of the most dynamic design elements of the building is the main entrance, which allows everyone to see behind the scenes to where the magic happens. By relocating the main entrance to the east side loading dock, we've created a democratized experience for anyone visiting the space, from artists to CEOs to delivery persons. The entrance also features a garage door and large ramp to accommodate bringing massive artworks into and out of the building.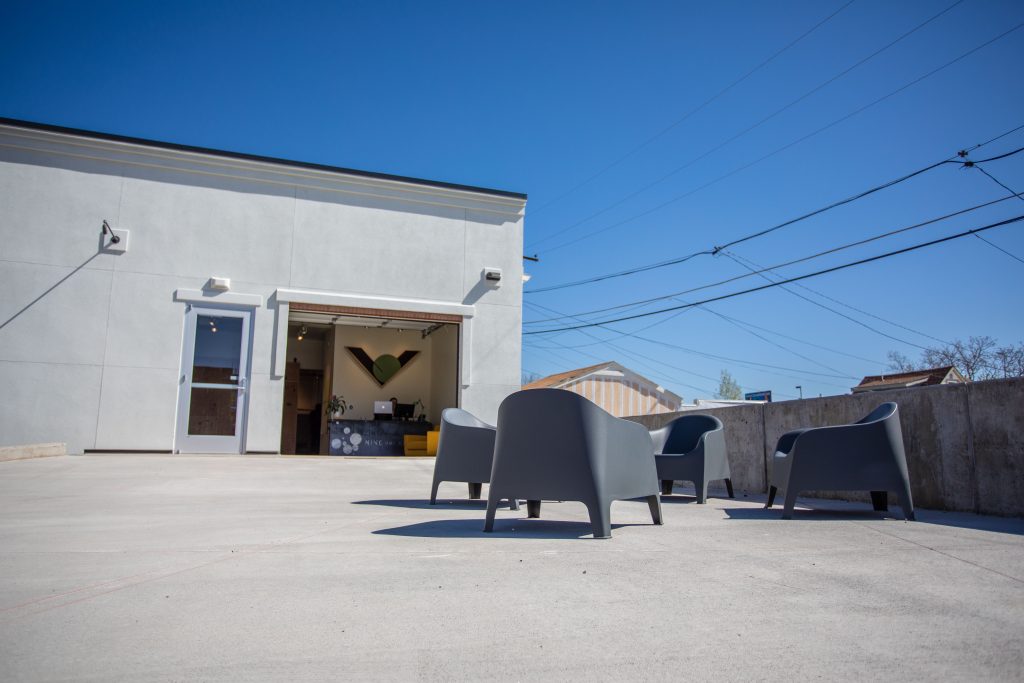 A Better Way to Experience Your Work
Adjacent to an exhibition space at the entry is a climate-controlled storage area built for flexible storage solutions for a diverse selection of art, which sits behind a 10-foot sliding barn door. A custom galley-style art presentation room utilizes art lighting, an extra-long table made from a former bowling alley lane and custom flat files for artworks on paper. A small dark room with row seating and a large screen accommodates special viewing sessions for digital artwork.
Transforming an Arts District
We're especially excited about the new office location in the Navajo Street Arts District. As the surrounding neighborhood is experiencing transformation and growth, so is the district, and we are excited to be part of the effort to breathe new life into and create more economic impact for the art community we are proud to call our neighbors.
The space is a tangible representation of our work to be a nexus point of engagement for artists and the business world, and is reflective of all the ways we connect the community for sustained creative growth in Denver and beyond. We hope to host you at our new office soon!
Thank you to all of the partners who supported our construction and build-out, including NeoEra, Saunders Construction, Studio NYL, Enlighten Engineering, Swanson-Levary Engineering and Associates and Studio TJOA.
Sign up for email alerts