Over here at NINE dot ARTS, we get the opportunity to work with some pretty darn amazing artists every day. But this fall, we may have developed an extra-serious girl crush on the one and only Shantell Martin when we brought her to Denver to create her largest installation to date.
Chances are good that you've seen Martin's work before. She has collaborated with Kendrick Lamar to produce a live performance at Miami Art Basel, crafted a limited-edition collection of eyewear in partnership with Max Mara, and transformed furnishings with interior designer Kelly Wearstler.
We've been crazy about Martin's signature black and white meditations of lines and saw the perfect opportunity for her to leave her mark on Denver through our curation of Denver Theatre District's Terra Firma art series. This public art series brings interactive, immersive and experimental art and culture events to a 16-block area of Downtown Denver with the goal of drawing people to downtown, as well as enchanting passerby with unexpected installations.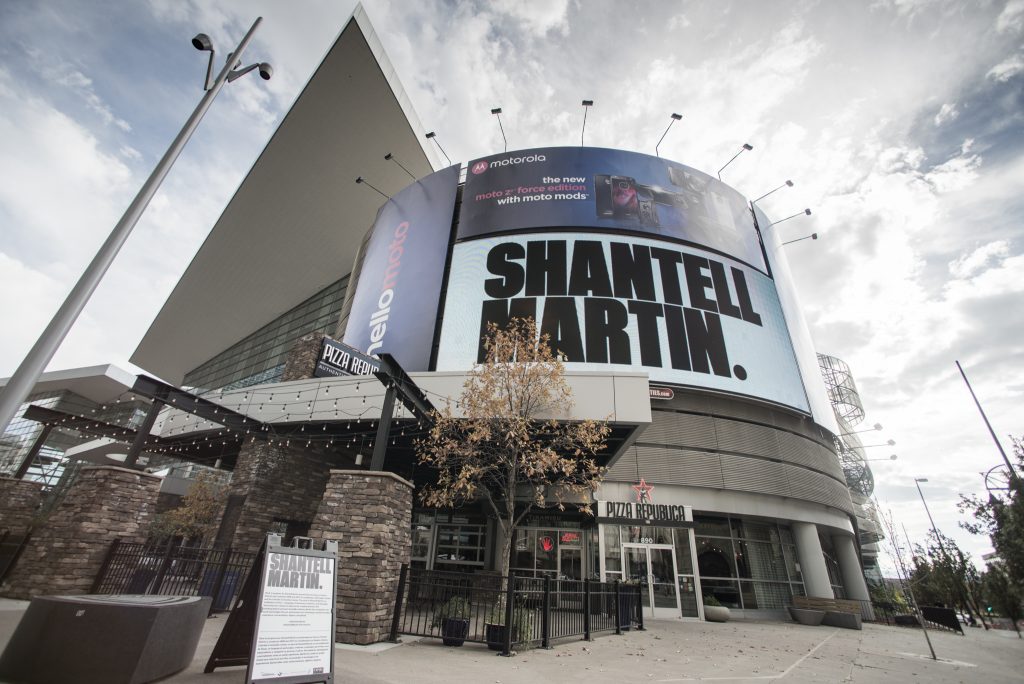 To prepare for Martin's arrival our friends from JDP Art Services prepped the sidewalk space and even some columns outside the Colorado Convention Center with black and white paint.
Martin spent four days transforming the space with just a can of spray paint and her ingenuity. The resulting installation reimagines the space, converting plain, unremarkable sidewalks into a work of art that inspires conversation, introspection and admiration. She also installed a bench that reads Don't Hide Me + You. We sealed Martin's installation with a protective coating ensuring that visitors will be able to enjoy her work for up to three years.
We love that our work allows us to not only develop art collections for brick and mortar buildings, but to also think outside the box and transform the built environment with public art.
If you're interested in having your work considered for one of our upcoming projects, you can submit your portfolio through our online curation website: dotfolio.
Photography Credit: Jon Paciaroni
Sign up for email alerts